Holidays in Iran: readers' travel tips | Travel
Winning tip: Aberkooh
The desert town of Aberkooh, between Yazd and Shiraz, was a flourishing city on the Silk Road in the 10th century and largely destroyed by the Afghans in the mid-1700s. There's a 4,000-year-old cypress tree, one of the best coffee shops in Iran, and the beautifully restored Aghazadeh Mansion with its double height windcatcher, using 19 wooden vents to channel cool breezes into the house. With luck you may run into the charming 12-year-old Amir Reza and be invited back to his home for lavender tea sweetened with saffron sugar.
baty37
No blood but plenty of sweat and tears, Isfahan
When in Isfahan don't miss watching zurkhaneh, a 3,000-year-old form of athletics originally used to train warriors, involving sweaty men in leather breeches doing press-ups and swinging clubs to deafening music and chanting. The zurkhaneh pits are difficult to locate but ask a local or guide to get you a ringside seat.
everoptimistic2014
Travel independently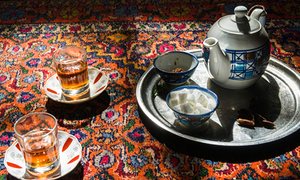 Brits, know this: you don't need a tour guide. The visa process remains tricky, but once an agency or Iranian citizen has sponsored your successful application, you should have little trouble going it alone. This allows you to make the most of your encounters with the country's endlessly hospitable and inquisitive people and the inevitable invitations for tea or to their homes. While you might not think of it as a country where spontaneity is rewarded, such chance meetings will be the highlights of your stay, as they were for me (a Brit) during a recent three-week trip.
ID5052288
Explore Damavand city and around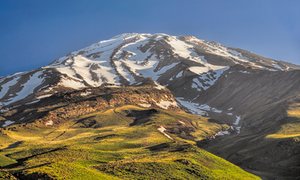 Damavand is a little over 70km from Tehran and one of the most authentic of small cities. Mount Damavand is the highest active volcanic peak in Asia, and one of the best ski resorts, Aab Ali, is also nearby. There are many natural waterfalls and the area is famous for its honey.
panvari
Varzaneh desert at sunset
Varzaneh is a small desert town, not too far from Isfahan. Arriving at the small-but-quaint Chapaker Guest House (Beheshti Street, +98 913 203 0096) you will be greeted by the ever-smiling, energetic Mr Reza and his quirky companion Rouhallah. The neighbouring ladies wear shining white chadors in contrast to the usual black ones and peer at you with curiosity. For a couple of dollars Mr Reza will take you to splendid views of vast wetlands, a volcanic crater, the majestic salt lake and the magnificent Varzaneh desert stretching into the sunset.
Jessica Fast
Hidden Alborz mountain castles
After enjoying the Shiraz to Tehran route, take a few days to go north-east from Tehran to Qazvin and then into the Alborz mountains to discover the remote 11th- and 12th-century castles of the Nizari Ismaili "Assassins", especially Alamut and Lambesar. They will remind you of the mountain retreats of the French Cathars, with stunning valleys, high mountains and views. Zarabad makes an ideal village base.
BrianParrott
The unique heritage of Abyaneh village
Abyaneh is a 13th-century mountain village about 80km south of Kashan. Its culture, traditions, costumes and dialect are unlike anywhere else in Iran. In 1973 it was registered as a national heritage site. Houses built of mud and straw are stepped into the hillside; narrow unpaved roads slope up and down the hills. Women wear colourful headscarves – the size of the flowers denoting their marital status, while married men wear voluminous satin trousers. As everywhere else in Iran, the people are wonderfully friendly and welcoming.
Sue Crofton
Morning sun in Nasir-al-Molk
In Shiraz stay in (if you can) or at least have lunch in the courtyard of the (twin room £40). Once you have visited the incredible Nasir al-Molk mosque in the morning for the sun streaming through the stained glass windows, cross Lotfali Khan Street, and turn left, in the direction of the citadel, take the third right alley and on your right is a beautiful madrasa (religious school, free). The madrasa courtyard is peaceful and a great place to sit quietly, watch the mullahs in discussion and see life unfold. Continuing down the same alley, hang left and you enter the famous bazaar where you can try faloodeh, the refreshing, if strange, Shirazi dessert.
Gráinne Mc Namara
Eco-tour and intellectual chit chat
Visit the See You In Iran Facebook page and check for upcoming events or tours. I went on a three-day eco-tour organised by the site and mingled with other curious backpackers and young, cosmopolitan, engaged Iranians. We hiked in the mountains near Masal, close to the Azerbaijani border and slept in a remote hillside village. It was amazing to disconnect – there was no mobile reception or Wi-Fi for miles.
1womancomments
Gheshm Island geological park
Fly from Tehran or Shiraz to this island in the Strait of Hormuz, or make the short ferry crossing from Bandar Abbas. You do not have to be a geologist to enjoy Gheshm's extraordinary geology. Eight main sites are spread around an island 60 miles long and can be visited by taxi: negotiate a day rate of around £20. Otherworldly landscapes have been carved over millennia by wind and water. I stayed in Tabl village, at Mr Amini's house, which was clean and welcoming. (Any meal or night's accommodation was £3.)
qeshmgeopark.ir
cjleggett
Breakfast in Masuleh
I had proudly taken my fiance to see Ephesus in Turkey; now it was his turn to show me his homeland. We arrived at our first stop, Masuleh, on a starry night, and awoke to incredible scenery. Perched on our rooftop, we took it all in over a breakfast of warm bread with saffron and carrot jam, and tea. We then drove to Rudkhan castle and scaled the 1,000 steps to absorb yet more spectacular views. Houses in Masuleh are available to rent upon arrival for around £35 a night and can usually accommodate three or four guests.
FilizErol
Golshan Hostel, a shining star in Shiraz
From our trip to Shiraz, I have to mention Golshan Hostel. This traditional hostel radiates Persian warmth and hospitality, and it's a perfect base for exploring the ancient city. There is a charming courtyard with a blue-tiled pool, flowering vines and bright, scattered cushions. It's hard not to mingle, chai in hand, in such a tranquil place.
golshanhotelshiraz.blogfa.com
Shaz Rakhshan
The Golestan Palace, Tehran
This is a beautiful 400-year-old masterpiece, displaying the earliest representations of a fused European and Persian style, and the complex formed the foundation of Iran's modern artistic movement. My top tips for inside the palace are the dramatic and awe-inducing Takht'e Marmar (Marble Throne), which stands in an outdoor terrace, and the magnificent Talar-e Ayaheh (Hall of Mirrors) which is exactly that. Only a stone's throw away is Tehran's famous Grand Bazaar.
ID9101224
Isfahan, for tea and coffee lovers
Navigating Isfahan by its old teahouses and new coffee shops is a nice way to spend an afternoon. The Azadegan Teahouse, in a lane off the north-east corner of Imam Square, has ceilings and walls decked with metal pots and lanterns, with tea, snacks and qalyan (hookah) on the menu. On the other side of the city, stylised coffees and virgin cocktails can be found in Café Ahang, near Charbagh Abasi Street. With its bookshelf and tables decorated with post-it notes, it has a cosy, local feel.
Nicole Zandi
Bam
The desert oasis of Bam, in the province of Kerman, was largely destroyed by an earthquake in 2003 but has since been rebuilt. You can wander through gardens full of orange and pomegranate trees and date palms. A must-see is the impressive, Unesco-listed Arg-e-Bam citadel, which is being beautifully restored. Bam is also an excellent base for exploring the surrounding desert, including overnight stays in desert camps.
CaseyD4
Observing Ashura in Yazd
I recommend visiting Yazd at the time of Ashura (it will be on 1 October in 2017). It's the festival of mourning for the murder of Imam Hossein and there is a genuine grief evident in the rituals. Visitors are welcome to the upper galleries of mosques, generally opposite the women's galleries, to witness hundreds of men beating their chests as the story is chanted. Our group was invited to a large temporary feeding area for a free lunch and supper (donations welcomed). You will also see fountains running red.
HelenCurrie
https://kalouttour.com/wp-content/uploads/2017/01/6000.jpg
0
0
admin
https://kalouttour.com/wp-content/uploads/2017/08/kalout-300x225-80x80.png
admin
2017-01-24 14:04:39
2017-03-13 13:43:25
Holidays in Iran: readers' travel tips | Travel