Narenjestan Garden or Qavam House in Shiraz
Narenjestan Garden or Qavam House in Shiraz is one of the most beautiful and praised gardens one will love to visit. Qavam House was built during Qajar period in late 19th century. At that time, Qavam family was among the political figures of Shiraz and Qavam House was the residential place of Qavam family and the office for their administration. Since the garden has an abundance of sour orange trees, people call it Narenjestan or the orange garden as well. Today, Narenjestan-e Qavam house and museum is open to the public and it is one of the main attractions of Shiraz that hosts many tourists who travel to Iran.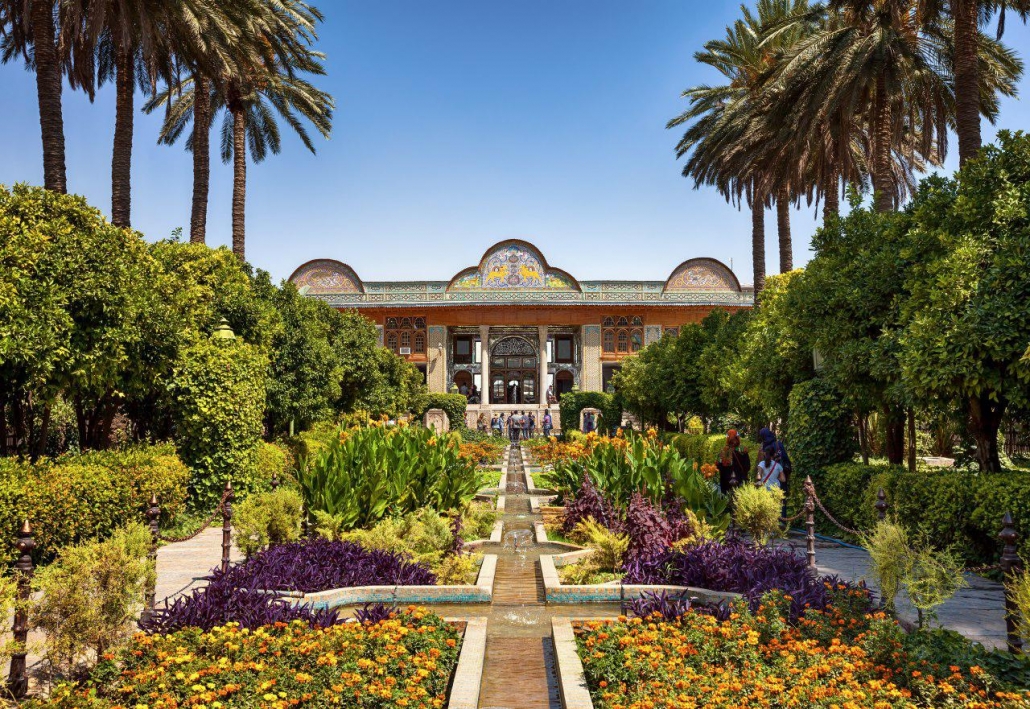 Narenjestan garden is a great sample of gorgeous Persian gardens of Iran. Persian gardens generally have a rectangular form consisting of four quarters abundant in trees and flowers, streams and pathways, ponds and fountains, a central pavilion, and the walls surrounding the garden. Similar to the Persian gardens registered on UNESCO World Heritage List such as Eram Garden in Shiraz, Shazdeh Garden in Kerman, and Dowlatabad Garden in Yazd, Narenjestan Garden embraces an eye-catching monument in the heart of the garden facing a stone pool and some fountains surrounded by date palms and sour orange trees that all together bring about a pleasant atmosphere.
Narenjestan complex is divided into south and north sections. Narenjestan monument as the most picturesque part of the garden catches visitors' eyes as soon as they take a step forward within the garden. The monument has an elaborate architecture embellished with various Persian arts such as paintings, stucco, wood carving, stone carving, tile work, and mirror work. It has a magnificent iwan or porch with 2 stone columns. The porch has fabulous decorations on its ceiling and walls. On both sided of the porch, there are symmetrical decorated rooms as well.
The basement of the monument displays a variety of colorful glasses. It was designed and built elaborately to provide a cool atmosphere throughout the hot summer days of Shiraz; however, today it has been turned into Narenjestan museum and currently it is one of the most prominent regional and national museums of Iran. About Forty years ago, Narenjestan Garden was handed over to Shiraz University and subsequently was turned into the center for Asian studies. The Asia institute was directed by Arthur Upham Pope and Richard Nelson Frye. With the cooperation of Persian art scholars, they established Narenjestan museum in order to display newly discovered artistic and historical pieces.
Narenjestan-e-Qavam museum and garden has maintained the elegance of the 19the century lifestyle enjoyed by the upper class families in Qajar period. It is one of the luxurious attractions of Shiraz. It embraces Persian arts especially stucco, traditional painting, mirrorwork, brickwork, Moaraq, stone carving, and wood carving. Along with all the great Persian arts visible in the complex, the sound of birds chirping in the garden, and the shadow of sour orange trees and palm trees along the fountains all together bring peace and quiet to the tourists. It is quite pleasurable to have a stroll across the garden, take pictures, and admire Narenjestan elegance. Narenjestan Garden or Qavam house in Shiraz has been registered as a national heritage site and it is one of the magnificent tourist attractions that impress many national and international visitors.
On the west side of Narenjestan monument, pay a visit to Khane Zinat-ol-Molk (Zinat-ol-Molk house) as well. The residence was built by Qavam-ol-Molk family in late 19th century. It includes 20 decorated rooms embellished with mirrors, stucco, and paintings. The first floor of the house is a great wax museum called Fars museum of history. It is home to wax, stone, and wood statues of more than sixty dominant personalities from Fars province. The variety of statues has made Fars museum of history a popular destination for Iranians and international tourists who travel to Shiraz. Travel to Iran and visit its invaluable historical attractions.
https://kalouttour.com/wp-content/uploads/2019/10/Narenjestan-garden.jpg
350
1700
admin
https://kalouttour.com/wp-content/uploads/2017/08/kalout-300x225-80x80.png
admin
2019-10-28 14:55:30
2019-10-28 15:01:09
Narenjestan Lawn or Qavam Area in Shiraz