Hafez, the good Persian poet of the 14th century
City of Shiraz known as the city of love, poetry, and civilization embraces many tourist attractions. Shiraz has many fascinating sites that attract many tourists and travelers. Eram garden, the picturesque Persian Garden with its lovely cherry blossoms and colorful flowers; Nasir-al-Molk mosque, the great pink mosque that creates a mesmerizing reflection of colors; Saadieh, the mausoleum of the great 13th-century poet Saadi; and Mausoleum of Hafez, the great Persian poet of the 14th century are great attractions located in Shiraz. Travel to Iran, visit Shiraz, and enjoy its many tourist attractions especially tomb of Hafez.
Tomb of Hafez is one of the cultural attractions of Shiraz visited and admired by many Iranians and tourists. It belongs to Hafez, the great Persian poet of 14th century. He was a Sufi Muslim respected and loved for his perfect personality and art of poetry.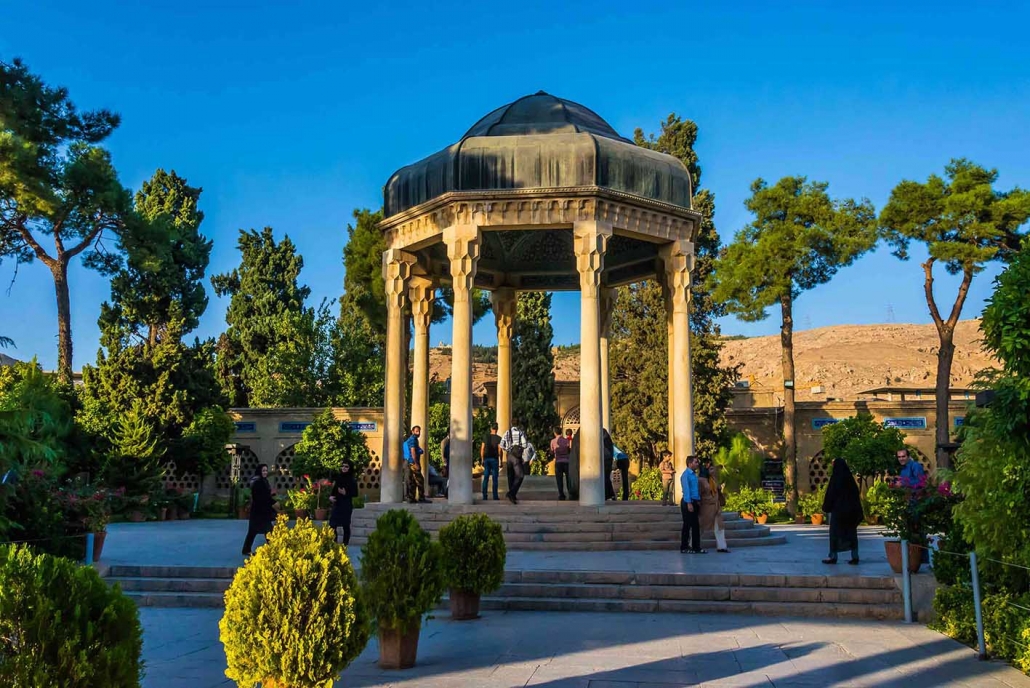 Khwāja Shams-ud-din Muhammad Hafiz-e-Shirazi is the 14th-century poet of Iran born, lived and died in Shiraz during the time Iran was ruled by the Ilkhanate. He is one of the most beloved poets among Persians. Since he had memorized Quran at an early age, people addressed him as Hafez meaning memorizer and later, "Hafez" got his pen name. He is one of the literary wonders of the world whose poems have been translated into different languages and whose art of poetry has been appreciated by many knowledgeable figures. Hafez mingles his poems especially ghazals-sonnets- with the essence of love and joy, teaches how to live a better life, and disgraces religious hypocrisy. To commemorate Hafez, October 12 is annually celebrated as Hafez Day in Iran.
Hafez has influenced many writers and philosophers. His work translated into English by William Jones in 1771 influenced Western writers and philosophers such as Ralph Waldo Emerson and Goethe. Emerson described Hafez as a brave and thoughtful person who feared nothing. He had wished to see Hafez or to be more like him. To appreciate Hafez, Emerson declared" Hafez is the poet for poets". Goethe had also admired Hafez and believed that Hafez had no peer.
Hafez's ghazals target different concepts of human life; however, love is the concept one would find ever in his poems and maybe that is why his verses are still popular among people. Hafez lived during the Ilkhanid period and it was a tough time for people to express themselves or criticize the situation. As a result, He took advantage of an elaborate figurative language to express himself. In a situation that nobody dared to violate the ruling system, Hafez tactfully put his words in the language of poetry to criticize the religious hypocrisy and ruling system of the time through his ironic tone called "Rendy" in Persian. Hafez is known as the master of Persian ghazals. Divan-e-Hafez-the collection of his works- as a great example of Persian literature is found in homes of Persian speaking people around the world. Iranians believe that Quran and Divan-e-Hafez are two books that should be found in every Iranian home.  People still learn some of his poems by heart and use them as sayings in everyday life. Performing fal-e-Hafez (Hafez reading) is also an ancient tradition among Persian speakers. It is an entertaining part of different ceremonies such as Shab-e-Yalda or Iranian New Year. Some believe that Hafez would give them a piece of advice about their lives through fal-e-Hafez.
Hafez died in 1389 and was buried in the graveyard of Shiraz. He had a high position in people's mind and maybe that is why all the governments ruling Shiraz paid attention to his tomb and tried to honor him in different ways. However, it was during Karim Khan Zand dynasty that a mausoleum was built to honor Hafez. Moreover, the marble stone was provided for his tomb and it was engraved with a long verse from Hafez. In 1935, the French architect- Andre Godard- was assigned to re-plan and expand the garden and make it more beautiful to attract many visitors. Therefore, more gardens surrounding the tomb were connected to the mausoleum to create more space. Regarding his design, Hafez's tomb was elevated up to one meter above the ground level and it was reached by five circling steps. Moreover, an octagonal pavilion supported by eight stone columns holding a tiled copper dome in the shape of a dervish's hat was constructed surrounding the marble tombstone.  Iranians love Hafez and they usually gather at the garden to visit his tomb, pray for his peace and tranquility, and perform fal-e-Hafez.
Tomb of Hafez with its splendid dome-like monument, the surrounding gardens with pleasant paths, streams, and fragrant orange trees, and the memorials to other famous figures all together make Hafezieh an attractive tourist attraction located in Shiraz. If you would like to travel to Iran, do not miss Shiraz and its many attractions especially Hafezieh.
https://kalouttour.com/wp-content/uploads/2019/10/Tomn-of-Hafez-Travel-to-Iran..jpg
263
1280
admin
https://kalouttour.com/wp-content/uploads/2017/08/kalout-300x225-80x80.png
admin
2019-10-28 13:45:37
2019-10-28 13:45:43
Hafez, the good Persian poet of the 14th century