Rafting in Iran – IRAN TRAVEL, TRIP TO IRAN
Rafting in Iran
"Iran has a rich history in river trips." – explains Hanieh – "But white water rafting as a relatively new adventure activity started in 2003 .
The standard rafting trips started on the Karoon river, Chaharmahal o Bakhtiari in 2008. There had been a few people arranging river trips before but not in a professional way. Many Iranians have enjoyed rafting trips up to date.
The Iran Rafting Association (IRA) was formed by a team of experts in the fields of River Eco-tourism, Raft Guiding, River Rescue, with the assistance of the IRF in 2009.
The "First Ever Rafting Festival", which includied a Judges Workshop, was a rafting competitions base on IRF Race Rules, and a swimming competition for villagers. It was run by the IRA in 2011 with the collaboration of the IRF . At a similar time a Rafting Committee was formed within the Iran Canoe Federation.
Gaspar Goncz, the Head of IRF Guide Training & Education Committee, has traveled to Iran a few times since 2011 to run IRF Raft Guide workshops. Other courses and workshops have been run by the IRF and arranged by IRA inside Iran and a few guides have trained abroad. Now there are a good number of teams and raft guides who are active and many tourists can experience safe rafting in Iran."
"Rafting is a relatively new sport and adventure activity in Iran. Many people are attracted by rafting with the start of  the "River Ecotourism Plan". A few groups formed with the purpose of commercial rafting but very few for sport purposes.
That is fantastic. No beginning is easy, but Iran is showing good progress which is a great reward for people who have invested a lot in the promotion of the sport rafting.
Iranian qualified rafters are really interested and hopeful to find the chance of competing in the world scene. The IRA objectives are:
    Standardize Rafting in Iran
    Exploring more rivers
    Attracting international rafters, kayakers and tourists to paddle in Iran's rivers
    Writing books, pamphlets, assays, reports about rafting, river tourism, river safety and related issues
    Making movies and documentaries
    Organizing training courses and workshops
    Organizing international and national festivals and competitions
    Empowering local communities
    Developing River Rescue
    Develop cooperation with international organizations such as IRF, Rescue 3 etc.
    Cooperating with Iranian Government Organizations and NGOs
    Encouraging qualified persons to enterprise in river tourists
    Talent Spotting
    Empowering Raft Guides and Sport Rafters
    Planning rafting for children
    Participating in international competitions
    Hosting Rafting competitions/cups"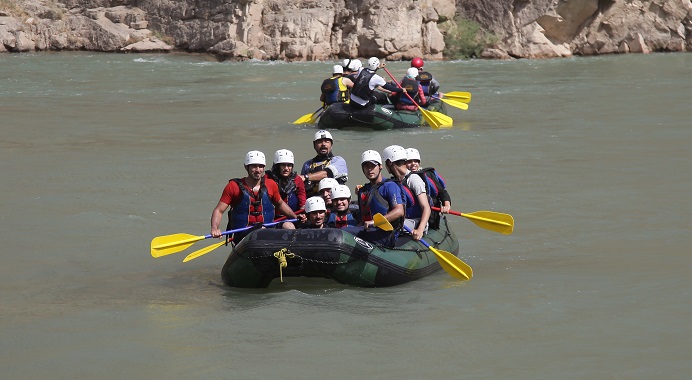 "In Zagros area there is virgin nature and unseen landscapes where there is no access except by river. To explore the amazing nature of Zagros and to see unseen attractions you need a river craft and a professional team of river guides. The rivers are different levels, so all nature lovers from families to professional white water rafters and kayakers can enjoy paddling there. The main rivers in this area are Karoon (Armand) and Zayanderoud in Chaharmahal o Bakhtiari, Sezar in Lorestan, Zaab in Azarbaijan, Sirvan in Kordestan, Zayandeh Roud in Esfahan etc.
Dave Manby, a well known British kayaker has paddled in the rivers of Zagros area and made the amazing documentary, "Five Danger Zones" introducing Zagros rivers amongst the wildest and most beautiful rivers in the world.While in Alborz area rivers are mostly steep and good for creek kayakers such as Karaj and Haraz in Alborz and Mazandaran provinces. The river Seifdroud in Gilan and some parts of Haraz and Karaj are the exceptions with easy and safe rapids and suitable for families and non-professional paddlers."
After this, Iran is not a great mystery to us. We know by which rivers to paddle, we can see that much has been done in Iran so far, plans for the future are great, we wish them much success in their implementation, and we invite girls and boys, women and men to try this sport. We sincerely hope that we will watch Iran and in Brazil next year, as well as in many other competitions.
https://kalouttour.com/wp-content/uploads/2017/08/kalout-300x225-80x80.png
0
0
admin
https://kalouttour.com/wp-content/uploads/2017/08/kalout-300x225-80x80.png
admin
2017-01-14 02:13:52
2017-03-13 14:02:14
Rafting in Iran – IRAN TRAVEL, TRIP TO IRAN