Vank Cathedral A should see appeal in Iran
Introduction
As a lovely and amazing city, Isfahan has embraced three UNESCO world heritage sites, plenty of cultural and architectural attractions and friendly hospitable local people. However, walking into Jolfa district would fascinate every visitor in a different way; it feels as if you have traveled back in time and you are in a different period of history. Let's not forget to mention that there are 13 churches in this district right now but Vank is undoubtedly shining as the most gorgeous one. Vank Cathedral is a must-see attraction in Iran, a masterpiece representative of artistic expression of Christians in Iran and Armenian living place in 400 years ago.
History
About 400 years ago, the Armenians migrated from Azerbaijan to settle in Jolfa district of Isfahan in search of a haven, due to the Armenian genocide occurred in Yerevan during Ottoman war. Jolfa is still famous as a quiet area with European setting and architecture.
Vank is a historic church dating back to Shah Abbas the second period (1642 – 1666) having the reputation of training high rank priests in Christian world; that is why Vank is considered as one of the most noticeable churches among Armenians. Besides being an impressive Cathedral, Vank is the largest museum in Isfahan due to possessing an outstanding collection of historic documents during the last 400 years which makes it one of the most well-known Armenian centers in the world.
Architecture and Design
Displaying a mix of Islamic and Armenian architecture, this church covers an area of approximately 4000 square meters including the main church and its courtyard, monastery, belfry, library, museum, clock tower, Bishops' room, community halls and tea house; considering the Vank garden and green spaces around, it is about 9000 square meters.
The height of the walls from the yard to the roof of the second floor is about 11.75 meters. Unlike many other Armenian churches in Iran which are made of stone, the main construction material in Vank Cathedral is clay.
The exterior walls are covered with brick and tiles designed with winged angels can be seen everywhere while the interior walls are covered with plaster and eye-catching paintings which is the most splendid feature of this building. The magnificent artistic decorations in different parts of the church, such as inside the dome, walls and arches are mainly originated from the holy Christian book. These paintings mainly represent stories from the Holy Bible, Jesus Christ from the birth to the ascension, day of resurrection and the judgment, heaven and hell. A combination of Persian floral ornaments and Armenian national motifs are also evident on the ceilings and walls. The display of frescos on tiles with glorious gold and blue frames has created a pleasant and lovely setting inside the church. The cost of all paintings and decoration of the church was provided by "Avdic Stepanos" which are unique among Armenian churches.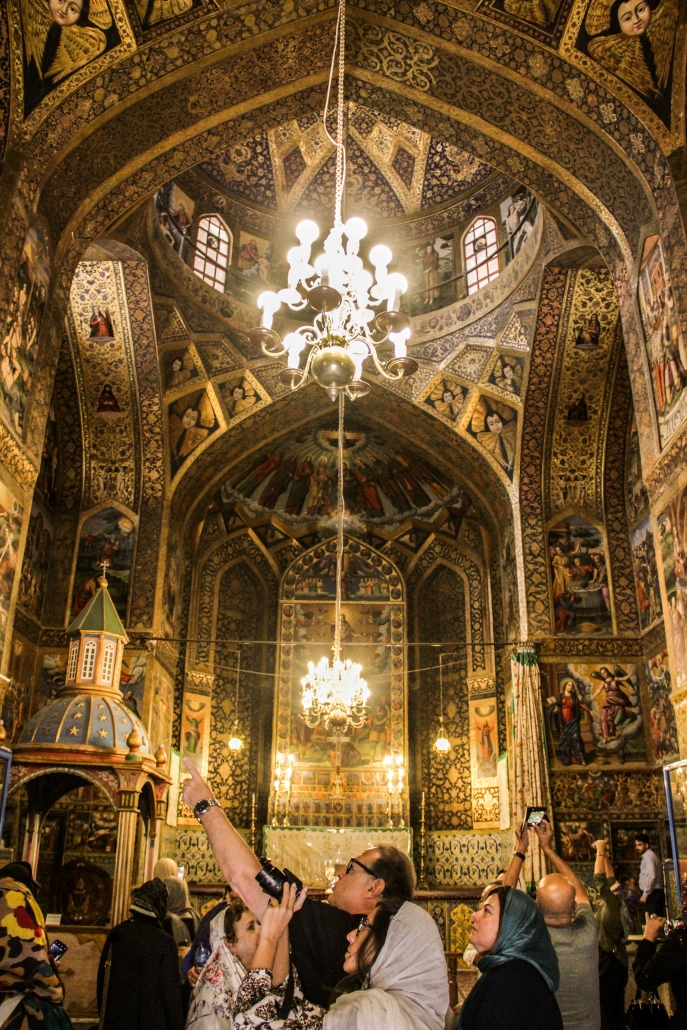 Museum
Vank museum is a not to be missed place in Isfahan. One of the most significant and most  comprehensive collections of biblical manuscripts are kept and displayed here. The museum keeps 700 handwritten books, a variety of objects related to Armenian community in Isfahan such as Safavid costumes, European paintings brought back by Armenian merchants, tapestries, embroidery, and other ethnological exhibits related to Armenian culture and religion.
Visiting various collections in this museum would be one of the most interesting parts of your tour. The precious paintings related to Safavid period, painted by Armenian and European artists are unexampled. There are stunning collections of porcelain and clay dishes, collections of wooden works consisting of instruments, furniture, clock, etc. and eye-catching metal objects including gold and silver jewelries, belts, frays, etc.
The exhibition of Armenian textiles, traditional hand woven and embroidery are quite appealing to any visitor's taste.
Vank Cathedral enjoys possessing 170 sheets of crucial historical commands, 22 of which are depicted in this museum today. Belonging to 17th to 19th century, these political orders are mostly related to the emigration of Armenians, offering religious and commercial privileges to them and tax rules for residents of Jolfa district.
And last but not least, the most highlighted object at Vank museum is a piece of hair, belonged to an 18-year-old girl on which a sentence from old testament has been written with a diamond pen in 1974. You can read the sentence through a microscope kept by the side.
Opening hours
9:00 am till 6:30 pm
Location
Vank Church alley, Jolfa District, Isfahan, Iran
Contact
(+98) 3136243471
https://kalouttour.com/wp-content/uploads/2019/10/Vank-Cathedral.jpg
346
1024
admin
https://kalouttour.com/wp-content/uploads/2017/08/kalout-300x225-80x80.png
admin
2019-10-28 12:16:22
2019-10-28 12:16:29
Vank Cathedral A should see appeal in Iran