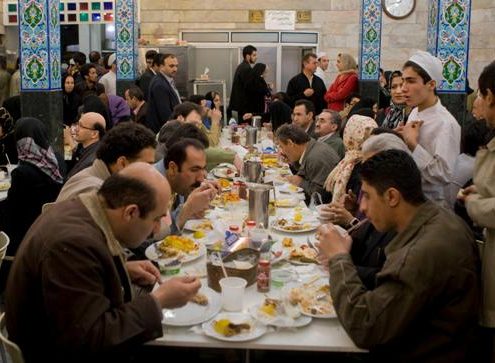 Travel anywhere in Iran You will find luscious food.Iran is known for its delicious and Varied foods.A lot has been said about traveling to Iran,But not about Iran's food trip.
Seeing new attractions and places, getting to know each other's ethnicities and customs, buying souvenirs, and at the top of all this, discovering new dishes and tasting them is definitely one of the most beautiful experiences of travel.
Especially for us, the Iranians who have more than 2,500 types of food in our culture.
Iranian food or Persian cuisine refers to traditional and modern delicacies from Iran. Situated between the Mediterranean Sea, Central Asia, the Caucasus, the Indian subcontinent and Anatolia, Iranian cuisine offers a common history and ingredients with Mesopotamian cuisine and Mediterranean cuisine. Fresh green herbs are often used together with fruits such as plums, pomegranates, quinces, plums, apricot, and raisins.
Typical Persian main dishes are a combination of rice with meat, lamb, chicken or fish and some onion, vegetables, nuts, and herbs. To achieve a balanced taste, characteristic Persian flavors such as saffron, dried limes, cinnamon, and parsley are tenderly mixed and used in some special dishes.
Most Iranian cuisines are made up of a wide variety of herbs and aromatic herbs with all kinds of meat.These types of meat include domestic animals such as goats, sheep, birds, and fish species.This diversity of food is more related to the religious laws existing in Iran and Muslims.But this limitation has made Iranian food popular among other nations as well.
Iranian food or Persian cuisine refers to traditional and modern delicacies from Iran. Situated between the Mediterranean Sea, Central Asia, the Caucasus, the Indian subcontinent and Anatolia, Iranian cuisine offers a common history and ingredients with Mesopotamian cuisine and Mediterranean cuisine. Fresh green herbs are often used together with fruits such as plums, pomegranates, quinces, plums, apricots, and raisins.
Imagine a green landscape filled with rice fields, tea plantations, and olive groves. A country where you can walk the mountains in the thick mist of the morning and in the afternoon you can plant waterfalls on sun-drenched rocks. A country filled with golden apricots that taste like a honey, peaches so juicy, hardly notice the sweet juice that runs down the chin, and little black figs, firm and velvety to the touch, which with sticky Tack out stickiness while you tear it open. I enjoyed all these pleasures and more when I traveled through Iran in search of the secrets of Persian cuisine.
On your journey, you can cook and feast with Iranians of all walks of life who welcome you into their homes to share their favorite recipes.In a country, most often viewed through the narrow prism of its policy, the food is a wonderful vehicle for the discovery. A really good meal is something that everyone can relate to.
Those who are not familiar with the food culture in Iran may assume that these foods are very flammable or spicy.But it is, in fact, gentle and soothing, a poetic balance of subtle spices such as dried limes, saffron, and rosewater. Slow-cooked stews, known as khoresh, and elaborate rice dishes layered with herbs, vegetables, nuts and dried fruit are the bedrocks of Persian cuisine, creating a dazzling mosaic of scents, textures, and colors at the dining table
we start our journey from west of Iran Tabriz, the first capital of Safavid dynasty(1502–1736), a place of culinary connection for centuries, a trading crossroads connecting the Caucasus, the Middle East, and Europe.
Tabriz women are very well-known among Iranian people, who are well-versed and well-cooked.
There is a famous proverb in Iran that says " marry women in Tabriz" it means that the girls and women of Tabriz are well known at Housekeeping and cooking.
Today, the bazaar is a Unesco world heritage site and nearby is one of the best places in town for preparing a different kind of spice, famous dried vegetables and other nuts for a unique Tabrizi food.
The famous food Kofte Tabrizi which is made by Rice, Meat, Split chickpea, and different kind of Spices and dried herbs and make as like as a small ball.
Continue your sightseeing tour in the city to reach the famous public Park: El Goli".Around the park, you will be welcomed by a variety of street restaurants with a garden of tall trees and water like a paradise.In these beautiful gardens, you can enjoy a variety of traditional cuisine of Tabriz with the right price and quality.And for the last part of the party, enjoy the grilled corn on red fires, to have a memorable night in the capital of the Safavid kings.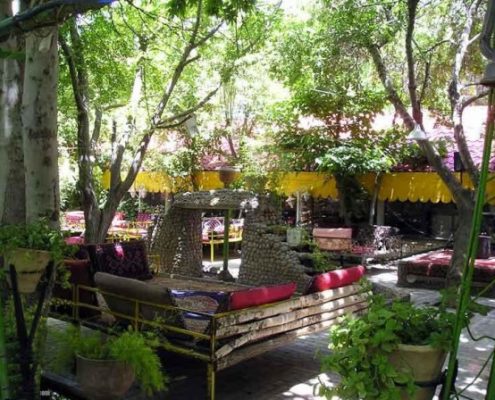 We continue our journey to the south of Azarbaijan province and North of Iran, along with the green belt of northern Iran along the Caspian Sea the biggest lake in the world and also the most expensive black gold " Kaviar".
The cuisine of Gilan is as green as its landscapes, making it the best place in Iran for vegetarians. Aubergines and garlic appeared at every meal, alongside the mounds of fresh coriander, parsley, and dill that are used to create fragrant bases for stews and emerald-green kuku (a type of frittata).
You can walk in the hills and groves of this green land and talk to people to know their cookie codes.
Gilan is also home to one of Iran's most famous dishes: fesenjoon, chicken poached in an earthy sweet-and-sour sauce of ground walnuts and pomegranates.of course one of the most famous vegetarian dish in Gillan is Mirza Ghasemi which is made by egg, yogurt,tomatoes and garlic that is served by all kind of dishes.
No trip to the region would be complete without sampling koloocheh, small pastries stuffed with ground walnuts, cinnamon, and cardamom which are the specialty of Fuman, or Lahijan With Iranian tea specializing in Lahijan.
Of course, it should be noted that the culinary culture in the three northern provinces of Iran is very close to each other.
In the continuation of our trip to Tehran, we will reach the capital of Iran's political, cultural and economic life.
A modern city more than you think about.
Long, high-rise buildings, clean, and most importantly diverse restaurants, where you can find a variety of modern and international cuisine.
Tehran is filled with upscale restaurants serving dishes ranging from sushi and frozen yogurt to dizi, a lamb, chickpea and potato stew made to a centuries-old recipe, cooked in a clay pot for several hours until the meat is so tender it can be mashed into a paste with a fork.
One of the best areas at Tehran for food and nature simultaneously is Darband the Northen neighbor of Tehran at the foot of the Alborz mountains.Finish the night by relaxing on faded Persian carpets in one of the many small wooden pavilions up and down the road and join the locals in smoking some apple-flavoured shishas.
In central Iran, I visited saffron farms, rose water fortresses and pomegranate plantations and discovered the history and horticulture behind Iran's most demanding ingredients. The pomegranate is indigenous to Iran, and in ancient Persian mythology, the heroic warrior Isfandiar is to eat his seeds and become invincible. Today pomegranates retain their almost mythical status and are revered as the favorite fruit of the nation. As well as being enjoyed on your own – their scarlet seeds with a pinch of Golpar, an earthy, citrus spice – injected – they are also salted, dried and boiled in molasses to be added to tasty dishes.
Esfahan province and Esfahan, in particular, had been the capital of several government dynasties in Iran, such as Seljuqs, and the most important of them was the capital of the Safavid government.The city of Isfahan or known as "Half of the world" or The Museum City is one of the world's most beautiful cities, an unforgettable international tourism destination popular all of over the world, an encyclopedia of Iranian and Islamic civilization.
In this beautiful city, besides visiting the most beautiful historical works of Iran from 2500 BC, you can enjoy the most delicious cuisine in the various restaurants in this city.One of the most famous foods in Isfahan is Buriani, which is made with lamb, tomato, onion, pepper, turmeric and other spices.The most famous restaurant in Isfahan is Shahrzad where you can eat the best dishes with a reasonable price.
The city of Shiraz is synonymous with verse, and with the roses that twist in the town's well-known garden, Bagh-e Eram. Roses are indigenous to Iran and it was here that the petals were first refined into rosewater, more than 2,500 years back. Today, this is chiefly utilized as a part of treats, for example, faloodeh, a fragrant and reviving rosewater and lime sorbet with solidified vermicelli. The Hafez plant is one of the best places to test this nearby claim to fame and I was taken there by Shahin Hojabrafkan, a good looking and beguiling used auto businessperson. We sat neglecting Hafez's sanctuary, pressing wedges of lime into our fragrant rosewater-mixed sorbets and watching a constant flow of Iranians pay respect to their most esteemed artist.
The last stop on your ventures is the southern port town of Bandar Abbas, on the Persian Gulf. Bandar, as it is known, is a town of burning daylight, warm blue waters and towering palms, and was at one time a critical post on the flavor course from India to Europe.
By appear differently in relation to whatever remains of Iranian cooking, the sustenance of this locale is an ambush on the faculties – an exciting blend of Persian, Indian and Arabian flavors. Tropical natural products, for example, mangos, pineapples, and guavas, are picked green and utilized for Indian-style pickles, and fish from the warm Persian Gulf is stewed, flame broiled as kebabs, or matured, dried and ground into powders and glues.
The best place to test the day's catch is the fish showcase, where beefy men yell their arrangements of the day and ladies squat on the floor beside them, deftly shelling prawns. By the market, a line of fish eateries serve specialties including ghaleyehmaygoo – a prawn, new coriander and tamarind stew – and little hot fishcakes called kuku-ye mahi,
Voyagers in Iran are dependably met with warmth and cordiality: it is normal to be welcome to an Iranian home for supper after simply trading a couple of merriments. For those wishing to extend their culinary learning, or just appreciate a standout amongst the most complex cooking styles on the planet, Iran offers an abundance of culinary pleasures. The main test for most guests will be pressing into their pants toward the finish of the excursion.
https://kalouttour.com/wp-content/uploads/2017/08/kalout-300x225-80x80.png
0
0
admin
https://kalouttour.com/wp-content/uploads/2017/08/kalout-300x225-80x80.png
admin
2017-07-30 12:18:10
2017-07-30 12:20:08
foodie tour of Iran