Iran from the perspective of an American woman tourist
Traveling to Iran from the perspective of an American woman tourist
Silvia Lawrence is An American woman traveler who traveled to Iran in 2014.After returning from the trip, she received many emails from her fans sharing her memories.He describes the most important and most practical points that every tourist must follow in his trip to Iran.This American female tourist is keen on introducing himself as a Norwegian because of his interest in Norway and his beauty.
Sylvia Lawrence
She traveled to more than 70 countries and now has a home in the mountains of Norway and is happy with her life.Sylvia is essentially an American, but because of its great interest in Norway, it considers itself a Norwegian and even has its own passport.She wants to travel alone to other countries and travels to Iran and other Middle Eastern countries in 2014.
Traveling to Iran from the perspective of a tourist woman
1) Find a host for your first night in Iran and then stop planning for a trip to Iran.
With a 2-week visa for this tourist, visiting all the tourist attractions in Iran seemed unimaginable.She decided to be more popular among the people from the second night.In this way, She could get acquainted with the culture and customs of Iranians and gain amazing experiences.
You should always find good hosting to provide you with a lot of information.
2) $ 5 per day is sufficient.
Perhaps many tourists would like to spend more on traveling to Iran than Silvia, But she only brought $ 400 for 2 weeks, and at the end of it a little money was left.
Always have cash with yourself, inPersianNo credit card is accepted in Iran.
3) Learn to count and write fromin Persian.
When you enter a shop and you can read and count Persian, it will help you a lot.It is very good that you understand the prices, also the shopkeepers are very happy that a tourist can speak their tongue.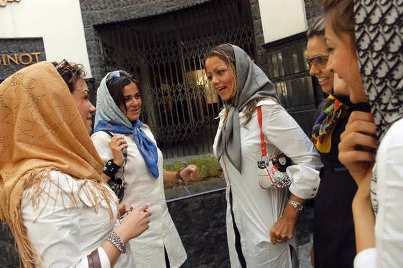 4) If you are a tourist woman, be sure to have two types of dresses, one the main dress and other manto.
The foreigners are not familiar with the mantle, they say, volunteersit covers the hands and stretches to the knees.In public places, you should use this type of cover to avoid any problems.MaVolunteers are dissatisfied with this.
It does not matter, But it's important that you respect the beliefs of a nation.
5) Drink a dough.
Most foreign tourists enjoy dough and taste, and they call that magic elixir.Eating traditional Iranian dishes with drinking dough is very enjoyable for tourists.
Tourists have an interest in drinking traditional and cool dough.
6) You will love Iran.
You will have a great sense of hospitality of Iran and its historical monuments.Not only Iran's warm people, but also the natural scenery and historic sites, will give you a good sense of it.
Each tourist wants to return to Iran after leaving Iran.When you talk to an Iranian, you can easily see kindness and goodness in their eyes.They do the best for you when you are their guest.
Iran can be a wonderful destination for tourists.
7) Try to see the whole of Iran.
Each city in Iran is full of tourist attractions that fascinate you.From northern Iran, it has a lush and beautiful nature, up to the warm and beautiful South, with its peaceful beaches.Always remember to capture every moment with your camera.
Each city has its own local and traditional food and should be tested.
https://kalouttour.com/wp-content/uploads/2017/08/kalout-300x225-80x80.png
0
0
admin
https://kalouttour.com/wp-content/uploads/2017/08/kalout-300x225-80x80.png
admin
2017-07-30 11:38:26
2017-07-30 11:38:26
Iran from the perspective of an American woman tourist