Yellow Taxi
Yellow taxis belong to the largest and official taxi companies in Iran. There some routes that the yellow taxis drive from-to. But it does not mean that you cannot hire a taxi for a certain route. They have a only accept cash for their fare.
Let's say you are in Tehran at Golestan Palace and want to use the rest of your day to visit Azadi Tower. All you need to do is to walk to Khayam Street and take a taxis of rout 515 to 2nd Roundabout of Sadeghieh (Falakeh Dovom Sadeghieh). You can get off the taxi in Azadi Square.
Shakhsi Taxi
"Shakhsi" taxi is unofficial taxi. The word shakhsi literally means "personal" in Persian and those taxis are personal cars of some citizens who are actually on the way to work or any destinations; they pick up passengers who are going the same route. They mainly charge the same as yellow taxis.
It is recommended you take yellow taxis rather than Shakhsi taxis, especially if you do not know the whereabouts of your destination. You only pay your driver cash in hand.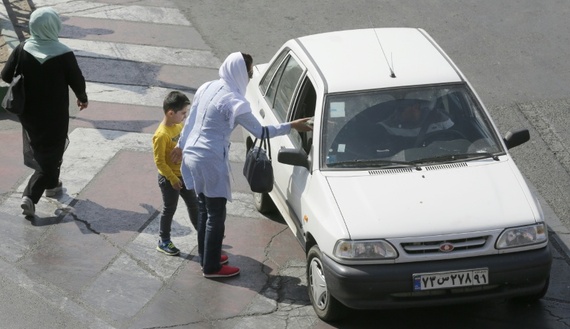 Ridesharing Apps
Tap30 and Snapp are two main ridesharing apps in Iran which you can download on your iOS and Android and activate them upon your arrival. You need an Iranian SIM card to register a number and also an internet connection to use the app. You can buy a pay-as-you-go sim card from the airport or newsstands anywhere in Iran.
You only need to select your starting point location and search your destination or choose your destination or the place you want to go. Your trips by these apps can make exploring Tehran an easier experience.
Tap30 and Snapp are quite popular and very affordable in Iran.